In anticipation of my first session of Warhammer Fantasy Battle next month, I have been putting together my Tomb King forces to stand ready against the Empire. I was initially going to use my Lizardmen, but as they require waaaay more attention than the skellies do, I thought I would give TK's a shot instead. Plus they are super quick to assemble, and pretty easy and quick to paint.
The focal point of my army will be my Casket of Souls. Anyone who is even faintly aware of Raiders of the Lost Ark (and if you're not, accquaint yourself RIGHT NOW!), or theological studies will see where the design hails from. Even down to the two winged beings on the lid. The Casket is a really impressive piece of kit, although as a kit, its beauty stops right there.
Since getting very comfortable with Games Workshop's plastics and their flexibility regarding assembling, converting etc; when I have to assemble a metal model, especially an older one, I start to cringe. One thing that still vexes me is why they insist on not making decent lug connections for the smaller pieces. The Casket of Souls is no exception. i've had to fudge some of this, and will be turning to the green stuff tonight for some much needed gap filling and support.
Whining aside, this kit is beautiful (?) to behold once assembled and its easy to see why this would be the focal point to any Tomb Kings army. Not only does it look bloody scary (which affects other wizards on the table – HAHA!) but it also gives the army a stronger backbone (geddit?) and a little more resilience.
So this is what comes in the kit: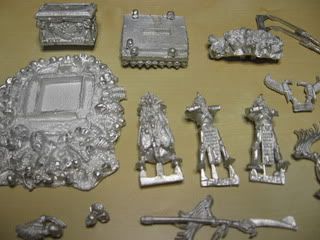 A motley crew of bits. A liche high priest, two Tomb Guard, a base, a plinth, the casket, winged thingies for the lid, some skulls for the lid, mound of skellies for the priest to stand on, arms for the three characters and a random skeleton.
After cleaning up the pieces (and practically going cross-eyed in the process) I started sticking it together. I use superglue gel, as I think it gives more support than the liquid. The first step was to glue the plinth and the casket to the base: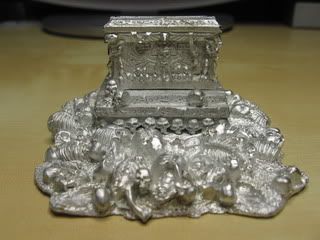 Already at this point I can hear Renee Belloque screaming 'its beautiful!' while Indy shouts 'Marion, close your eyes, don't look at it!'.  Already I can feel the considerable weight in this piece too. I'm thinking that this will be mounted on a custom 'movement base' as I'm not at all happy with having it painted with the metal being directly on the tabletop.
Next I glued the arms onto the two sentinel Tomb Guard, and after much wrasslin', cussing and bending of legs, I got them approximately where they should be: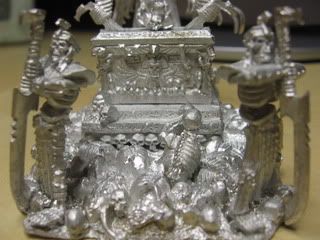 These two look thoroughly bored. I foresee these two being the first things to fall off… 'Why did you attach them before painting them?' I hear you cry? well, maybe i'm a glutton for punishment, or maybe I didn't want to risk f*cking up my paint job on them buy dicking around trying to attach them after the fact. The simple answer? do the hard crap first for smooth(er) sailing later. So it'll be awkward to handle, big deal. I have enough room to get around the minis to paint them.
Finally I attach the bits to the lid and the Lich high priests arms, then attach him to the base: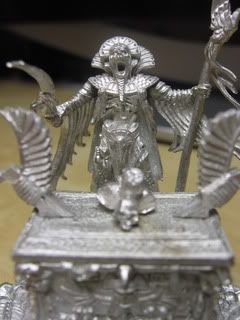 This guy is the business, and he's not taking crap off anyone! Looking at the detail and animation on this guy really makes me wonder what the balls GW was thinking when they went ahead and made the turd-fest that is the lich priest on foot/mounted minis: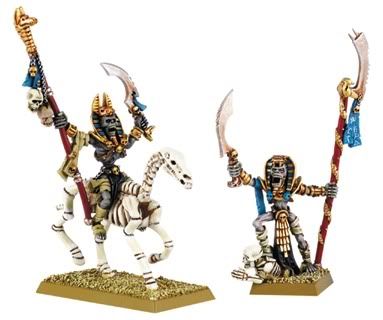 I refuse to get these, as they just look bloody awful. I hope with the redux of the TK's coming in the next few months will see a couple of new Liche Priests.
Anyhoo, here is the casket in all its assembled glory (minus Green Stuffing):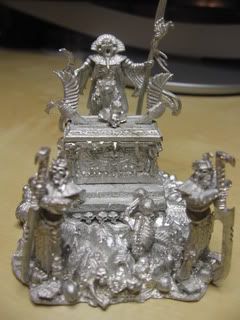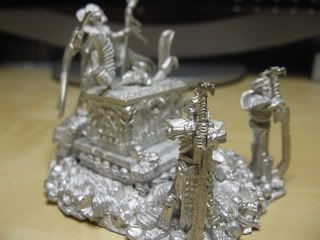 I'll be posting up a painting step by step once the rest of my force is assembled, so stay tuned!
Cheers!
Paul