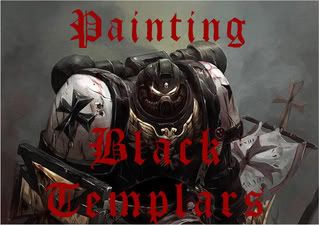 Painting Black Templar Space Marines – Part 2.
Tabards.
Some of your stalwart Templar's may carry their robes of office about them. Some pictures of them make them look nice and freshly laundered, being pure white. Nonsense, I say! These robes have been worn for years, maybe even centuries. Quite possibly handed from brother to brother too. The point being, they need to look aged and worn, at least a little bit.
The recipe I use is fairly simple. You'll need three colors:
Snakebite Leather (or its equivalent) – this is your base coat.
Bleached Bone (or its equivalent) – this is your mid tone.
Menoth White (or its equivalent) – this is your highlight.
Over your black basecoat, you will want to apply a thinned down coat of your Snakebite Leather. It is important, though not essential, that you get a nice even layer.  Getting a nice layer at this stage will help you get this area painted quicker, as the basecoat won't show through.  Then, to the base color, add some Bleached Bone to the mix. Make the mixture relatively subtle in shade. The area you are painting is open and flat, so you can actually afford a little more time on the mixture, and still do a good job in a short time. Remember, something 'not of the norm' on a mini becomes its focal point, and as the tabard will be breaking up a black mini, it's not a bad idea to make it look smooth.
The Snakebite Leather/Bleached Bone mix needs to be painted on the raised creases of the tabard. Pretty much straight away you should start to see the definition. Keep adding more Bleached bone to the mix and repeating this until you work up to pure Bleached Bone. Then (if you wish) you can add pure Menoth White (a slightly off white) just to make some final and very minimal highlights.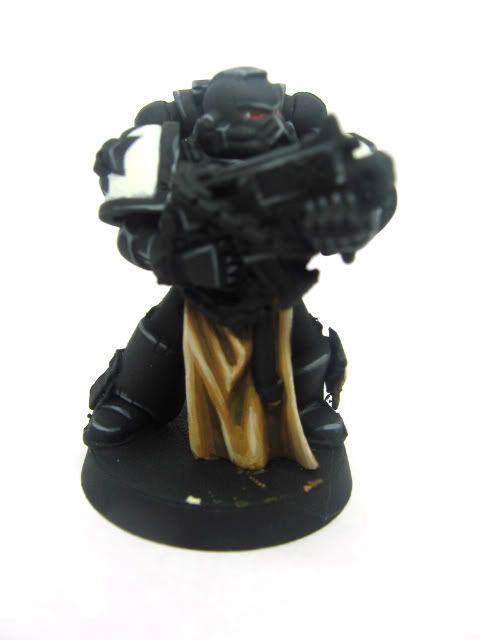 I paint the back of the tabard a different color, to depict a lining to it. I do mine in red, as it's quite striking and a nice contrast, but it's up to you, obviously. You can also put oaths on there, by painting little black lines of script on them, or if you're really adventurous, some piping around the edges.
There you have it. Simple but effective! You should have now, in front of you, a nicely painted Black Templar!