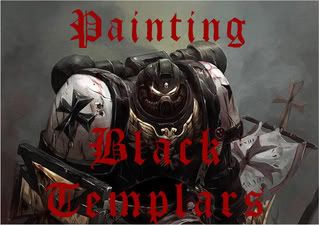 It's taken me a little while to get past the whole 'every miniature I field has to be of competition standard'. By that comment, I am in no way saying that is what my standard is, but more along the lines of the time put into a single miniature. By breaking out of this mindset, I can get painted troops out on the table in a fraction of the time. I have a secret project I want to work on, but have vowed that I get something else done first, and as it looks like Sisters may be getting an overhaul in the not too distant future (meaning new minis).  I decided to continue with my relatively 'current' force – my Black Templars.
A little while back I posted up my Inquisitorial Guard with the urban camouflage scheme that was quick and fun to paint. Not only was it fun to do something that wasn't the standard scheme, but it got my unit on the table a lot quicker. I wanted to apply that to my marines. So far I have been happy with the results; a quick paint job but very satisfactory one.
Black can seem like a bit of a pain to paint, as highlighting can really only be good or shite, it's hard to get an in-between standard, as black is such an unforgiving color to highlight. I did mess about with blues but gave up on that, as it gave too much of a cartoon feel to them, so I decided on 'old faithful' – grey. *
For me the most important part of this is the undercoat, mainly due to the fact that this is the color that is actually the finished layer; the highlights are just accentuating that. The key here is to get a good even base coat. I use 'Krylon' brands 'fusion' for undercoating all my stuff, because it stays on the mini better, especially the plastics. Once the base coat has been applied, then its inspection time! If there are any areas that the undercoat didn't reach, as there always undoubtedly is, then I touch up the areas with a paintbrush and either Thamar Black from the PP range, or Chaos Black from GW, depending on what I have at the time. Now, I probably will get moaned at here, as I stick the entire mini together before painting, especially if it's just troops. I'm not one of these who leave bolters off to paint everything and then paint the bolter separately before gluing it on. Characters yes, but not these. If you can't see it, why paint it? Blasphemy I know! Remember though, this article is about painting efficiency!
Then I whip out the Greatcoat Grey from the PP range. With a detail brush I paint thin lines of this around the edges of the armor. I don't go overboard on this, as otherwise it looks too messy, in my opinion. Notice the knee pads, shoulder guards etc. You can see that I only highlight the corners, or tips of certain parts.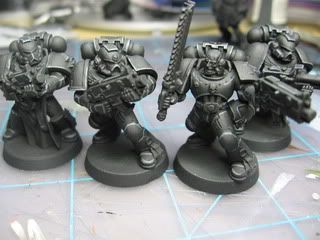 Then, once the initial lining is done, and I am happy, then out comes the codex grey. Don't worry about cock ups or anything at this stage. The beauty is you only have to touch up with black! I don't blend with this shade of grey; I just paint it on the same as the other, but only sparingly. The result can be a little harsh, but I think it works well. Blending takes time and time is something I don't get a lot of for this of late!
I repeat this process for the bolter casing too, and also the backpack.
At this point, clean up any areas you need, thin lines down that look too wide, and you are done for the power armor! Simple stuff eh?
Next we move onto the eye lenses. Again, nothing too fancy here. A steady hand, though, is the name of the game but again, touch ups are not a problem. I start with a line of Mechrite red, leaving a band of black toward the top of the lens. Then a line of blood red underneath the Mechrite, to give it that reflective glow. I finish them off with a dot of skull white, for lens glare.
I leave the metallics until the end, as then I don't have to piss about with changing water, having two water pots or what have you, so, I paint the shoulder pads next. This starts out simply with a basecoat of Codex grey followed by a coating of Menoth White from the PP paint range. I use this color, as it's slightly off white, which suits me. I think that having it just basic skull white would leave the mini looking a little bland. This gives the white an aged appearance, suitable for a piece of armor a few centuries old. I will also randomly paint knee pads with this step as well. On some I will paint both, on others one or the other.  The knee pads will actually end up with quadrants on anyway, denoting the chapter they are with.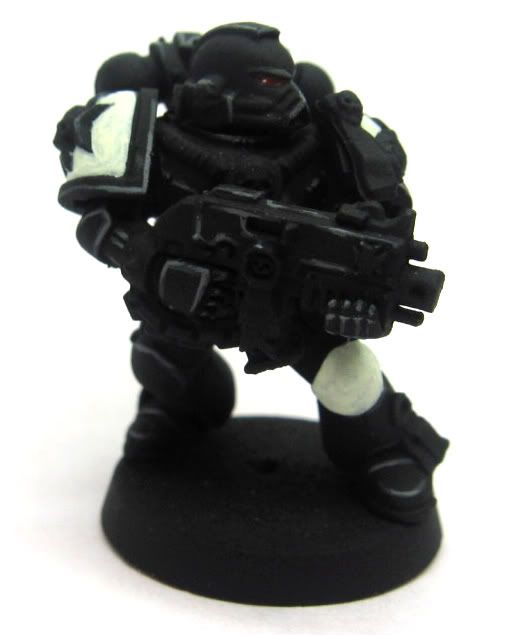 Now, if you have the joy of owning the chapter upgrade kit you'll probably have the chapter specific shoulder pads on your mini, so, painting the iconography is a snap, it's already there and all you do is use the black and red steps already discussed (unless you are doing a different color, obviously). If you don't have the upgrade kit, you'll want to hand paint the Templar cross.  This can be a bit of a pain in the arse. You can either do this with a water slide decal (ick), paintbrush OR, my favorite, a fine drawing pen**. All require a steady hand! If you paint it or draw it, you still need to approach it the same way. Essentially start with four 'v' shapes radiating out from a central point. Then draw in a smaller 'v' inside those, and hey presto! Your Templar cross! I'll usually fill it in with paint now that I have my guidelines. Again, any mistakes are easily taken care of. Repeat this process on the model wherever you deem fit.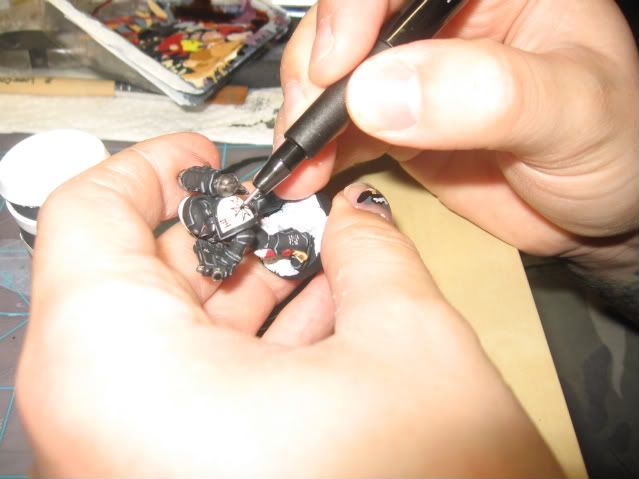 The metallics are easy. A basecoat of Boltgun Metal starts it off, followed by an 'Armor Wash' ink from the PP range. Then the edges are highlighted the style as the black, but using chainmail, and if I'm feeling generous, Mithril silver.
So that's the basics! You should now have a completed and very grateful Black Templar in front of you.  Another step I take is to add some personal oaths that the Templars seem to favor on their armor. This basically means painting some little white or black lines on the armor here and there: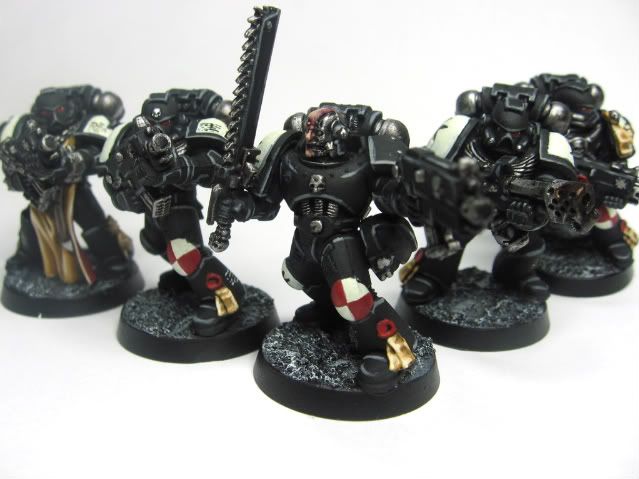 It really depends on how far you want to take it!
*This black procedure would also work well for Black Legion Chaos Space Marines. Evan, I'm looking at you

** Make sure the pen you are using has waterproof ink!